A HEAT PRESS MACHINE THAT ALLOWS YOU TO PRINT WHATEVER DESIGN YOU WANT INSTANTLY!
1. Directly allows transfers onto T-shirts, garments, bags, mouse mats, jigsaw puzzles, ceramic tiles, plates and other flat surfaced items with consistent heat temperature.
2.The machine could transfer images such as photos, words on cotton, fiber, metal, ceramic, glass and so on. No need to have drawing software or skill knowledge.
3. Pull-out drawer type clamshell configuration
4.Digital LCD timer and temperature control makes setting more accurate.
5.Full-range pressure-adjustment knob allows the pressure to be adjusted according to the thickness of the material you're transferring to.
6.Upgraded elevated lower platen allows room for t-shirts to be easily placed into and removed from machine.
7.Parallel arm handle with ergonomic foam-grip minimizes handle flex when opening and closing the machine.
8.Teflon-coated element is non-stick, preventing scorching of transfers, and does not require a separate silicone/teflon sheet.
9.Rigid steel frame industrial strength and durability allows for long-term use.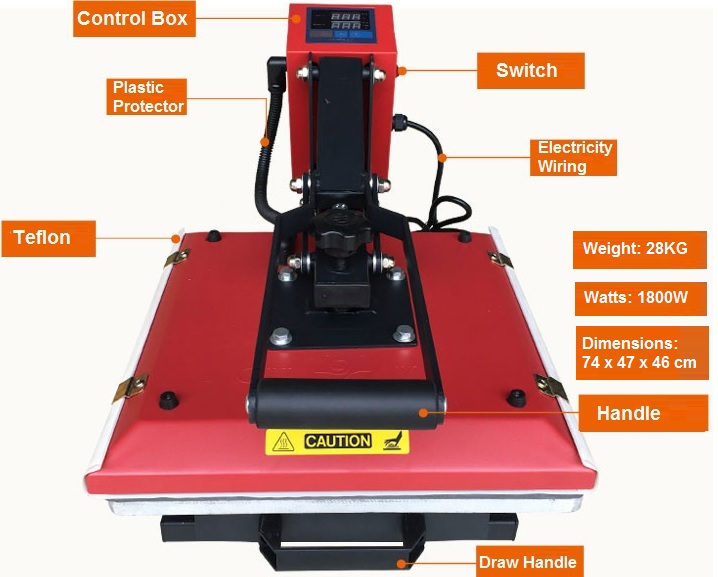 GE Digital Imaging, we are a ready-stock supplier of Tshirt Printing Machine, mug printing machine using fast heatpress method.
This clamshell heat press machine gives you a large area for t-shirt and fabric heat transferring. What's nice about clamshell heat presses is they can save room over the standard swing arm heat presses, and, can be easier to manage depending on the set up of your work area.
Teflon sheets are great for both fabric and heat press protection for any type of heat transfer. The Teflon protects the shirt and the press while still allowing heat to transfer the design.
Note: 100% cotton shirts are ideal for silkscreen printing, DTG, and printing using heat transfer paper. For sublimation printing, take note that 100% cotton fabric are not suitable unless they have been poly-coated.
To purchase our blank consumables, click here: Click on this link
To purchase office supplies, click here: Click on this link