Button Badge Maker Machine Specifications:
Dimensions: Approximately Length 48 cm X Width 18 cm X Height 90 cm
Weight: Body & Mould is approximately 6kg
Warranty: 6 months
Production Speed: Approximately 150 to 200 badges when all your materials are ready (back, metal shell, images, mylar)
BEST Maker Faire creative ideas for kindergarten, montessori, primary school in Singapore!
This badge maker machine is popular among primary schools who are developing their students under the Makers Faire program!
Having a badge making machine in the school allow them to let their creativity flow, learning and discovering new business / knowledge skill and lifelong practical skillset. We are proud to have supported the MOE and private teachers by supplying the schools the necessary equipment and blanks and at the same time, also have imparted valuable knowledge and training to them so that they can teach the students the same. Maker Faire allow students to showcase their best work through hands-on do-it-yourself activities and it means schools are no longer about just studying and taking examinations.
We welcome teachers, educators to contact us if you are interested to introduce badge making / heat transfer printing / sublimation printing techniques to your students. We provide free training (1-2 hours) when we deliver the equipment. Rest assured we DO NOT just sell you the products and leave.
Comes with Training / Instruction + Setup + Mould + Blank Button Badges :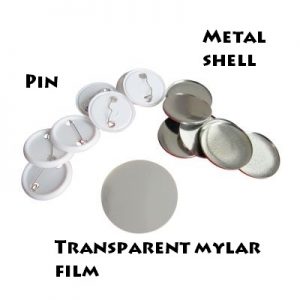 Optional Badge Making Round Cutter 4-4.5kg (To Purchase at S$140-160):